Entertainment Magazine: Entertaining Tucson
By Tina Alvarez
January 1995– Entertainment Magazine On Line (EMOL.org)
Although the Tucson, Arizona-based Blues Light Blues Band multi-instrumentalist David Muñiz has a degree in Fine Arts (string bass performance) from the University of Arizona, he considers the most significant schooling he has received as having come from the streets.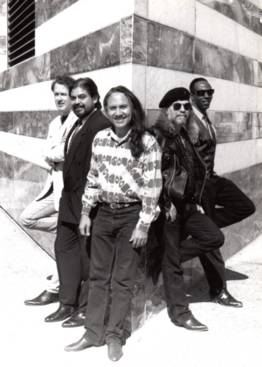 The Blue Light Blues Band, from left to right: Richard Sullivan, Tony Uribe, David Muñoz, Jerome Kinsey and Phil Davis. April 1994, Entertainment Magazine.
"I lived in San Francisco almost six years and that's where I learned a lot of Jazz," explained this Tucson native, "Because I picked up on a lot of good teachers, like Carl Tjader. I used to hang around with them and the piano player, Al Zalicky. The Bay area was so rich with everything. That was my real education. That was my college."
For Muñiz, who is half Apache and half Aztec Indian, his schooling began early. When he was eight, his uncle who played in a popular Mexican band called Los Elegantes, taught him how to play Spanish Flamenco guitar. He later became interested in rock'n' roll. By the time he was twelve years old, he was playing professionally at local bars with Tex-Mex and Salsa bands, and Latin Orchestras.
The wide-ranging styles Muñiz has covered also reflect in the varied tastes of the members of the Blues Light Blues Band. Guitarist Tony Uribe likes blues and rock, while Phil Davis prefers fusion. Drummer Jerome Kimsey has a background in funk, rock, and jazz. The newest members of the band are saxophonist Amo Chip, and keyboardists/vocalists Lamonte Arthur and Peaches.
In 1992, Muñiz, Uribe, and Davies teamed up with George Howard and the Roadhouse Hounds. When that line-up dissolved close to a year later, the three formed the Blues Light Blues Band. Muñiz said they picked the name because "we wanted something that had to do with the Blues, just to let people know we are a blues-based band.
The B.L.B.B. formed in March of 1993. They started playing in Tucson at Windy Cities and the Chicago Bar where they drew good crowds. About five months ago they left both venues to make the Neon Moon their new home every Friday through Tuesday. They have a self-titled cassette out which features their renditions of popular covers as well as one original.
"We did what the people wanted to hear and that was a lot of covers." Muñiz expressed. "That worked really well because people would buy the tape. What we're trying to do now is sell enough copies of the tape to have a CD of all original material. That's our next project."
Muñiz said that the three members handle the transactions of the group. Uribe handles the "physical resources" which includes the PA system, equipment and transportation. Davies does the booking of special engagements as well as the regular club bookings. Muñiz is in charge of promotion, interviews and dealings with all forms of print, radio, and TV media.
The Blues Light Blues Band feels strongly about getting the Blues out to the public. "I really concentrate on keeping the Blues alive like Sam (Taylor) does," he said. "I think music is more than something you listen to. It brings people together. It bonds families, friends and strangers. You're all in one room together, you exchange energies. You make things happen that wouldn't have happened before."
"You can do that with any kind of music. Just to see people's faces light up and see them happy– it's such a good feeling," Muñiz concluded. "And I'm really fortunate to be one of the few musicians in Tucson to have music as not only my occupation, but my living. It's who I am and what I am."
---
---
Now Available
From Amazon.com
by Robert E. Zucker
The local entertainment scene in Tucson, Arizona during the 1950s through 1985 was vibrant– from the '50s rock and roll of the Dearly Beloved to the '80s with the Pills, Giant Sandworms and everything in between– classic rock, disco, alternative, punk, hard core, country, swing and Big Band. Hundreds of bands and thousands of entertainers over three decades. Within these pages are the memories and the experiences of those people and places.
These are the original articles and interviews published in several local newspapers that covered the Tucson entertainment scene over the decades. Follow their stories through the years– the big breaks, record releases, hot performances and duds, break ups, tragedies, personal insights and struggles.
Purchase copies of Entertaining Tucson Across the Decades
on amazon.com.
Tucson Entertainment Book
Tucson Restaurant Coupons
Use discount restaurant coupons for dining at dozens of restaurants locally and thousands of registrants across the nation. This Week's Online Offers for Tucson restaurants.
New discount restaurant dining gift certificates from some local restaurants through Restaurant.com. Check out the latest offer,
Return to Entertaining Tucson
Volume 2 Home
---
© 2015 BZB Publishing, Entertainment Magazine. All rights reserved.