Entertainment Magazine: Entertaining Tucson
Chuck Wagon and the Wheels: Keepin' Those Wheels Spinnin'
---
This is a page from the 2-volume series of "Entertaining Tucson Across the Decades," covering 50 years of Tucson local entertainment.
---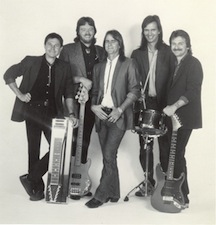 By Tim Morin
November 1990– Entertainment Magazine, page 7
Chuck Wagon and the Wheels is a premier country/western band, but every fan know they can knock out some pretty mean rock 'n roll too. Formed in 1977, this local band became familiar to Tucson in the late '70s and early '80s for it's satirical music, when they called the Stumble Inn (now Mudbuggs) home.
Best known for their "Country Swings Disco Sucks," these guys hit #1 on the "Dr. Demento Show's Funny 5 Countdown" in 1980, closely followed by "The Gas Song (Let's Drop the Neutron)." Unfortunately, this was released during the Iranian hostage crisis, and wasn't looked upon as funny. Maybe, it's time has come now to get some airplay.
After 13 years, five albums, six singles, international airplay, domestic and European tours, and a few changes in the lineup, this band can still get a crowd rowdy, whistling and screaming the names of favorites such as "My Girl Passed Out in her Food," and "We Ran Out of Gas on the Road to Love."
Popular in California and Colorado, they have opened for such names as Jerry Jeff Walker, and have been compared to Asleep at the Wheel. Performing on a small, low stage spanning the back wall of Tiny's Saloon, it seemed to this reporter, like walking into a roadhouse. The only thing missing was the chicken wire in the front of the stage. But as it ruined out, this was not the case. It is a nice comfortable place to meet friends.
---
---
The band plays music from such divergent groups as Ted Nugent, the Rolling Stones, and does a great impression of Willy Nelson with Chuck reverently holding his nose to achieve just the right nasal quality.
Chuck "Wagon" Maultsby, a Tucsonan since the mid-'60s, began his career in various rock bands, and landed a contract from Capitol Records in 1969. He changed format in the mid-'70s and got into country/western. He is founder, singer, songwriter, and producer owning Wagon Tracks Records. His favorite song is "Carolinda," but it was never a big seller.
Chuck has won one music award for "Sales Over 100." It is a disc of bubble gum. Chuck is married to a raven-haired beauty named Sharon and has two sons from a previous marriage. Chuck and Sharon are both professional leather-workers. Chuck's goal is "to have just one Top 40 hit before I die. I'd be happy with #39!"
Backing Chuck on the steel pedal guitar is Neil Harry, member since 1978, when he left the Dusty Chaps band he played on two albums produced by Capitol Records for them, Neil is a steel guitar instructor and recording session performer.
Bass player and vocalist, Randy Cochran, is from Tulsa, Oklahoma. Once a staff musician for Leon Russell's Shelter Recording Studios, he came to Tucson as a member of the Grain of Salt band from Denver. He now works as a civilian at Davis Monthan Air Force Base.
On lead guitar, native Tucsonan Jay Quiros, has become a "second to none picker and harmony singer," says Chuck. Jay is also a songwriter, and has helped with the KWFM-FM radio compilation album. Doug Parmenter is on drums. As a graduate of the Musician's Institute of L.A., is highly successful studio musician, and has played with many country and rock bands.
This version of the band has been together for a little more than three years. Kristi Bird, of the Flagstaff Lumberjack has described this band perhaps better than anyone. She says: "The music of Chuck Wagon and the Wheels is more humorous than crude, creating a party atmosphere for dancers, drinkers, and "hell-raiser's." She certainly is right, some of the songs she must be alluding to include: "Red Hot Women– Ice Cold Beer," "How Can I Love You If You Won't Lay Down!" and "One Less Jogger on the Road."
There is good news for fans of Chuck Wagon and the Wheels. There is going to be a new album. "The Best and Worst of Chuck Wagon and the Wheels" will be released near the middle of November!
Reports of the death of acoustic music in Tucson have been greatly exaggerated. If "rap music" (an oxymoron?) has you throwing rocks at your radio and MTV strikes you as pollution of your personal environment, then it is time for you to recycle your energy and carpool out for a soul-saving dose of the Tucson acoustic music scene.
---
---
Available
From Amazon.com
The local entertainment scene in Tucson, Arizona during the 1950s through 1985 was vibrant– from the '50s rock and roll of the Dearly Beloved to the '80s with the Pills, Giant Sandworms and everything in between– classic rock, disco, alternative, punk, hard core, country, swing and Big Band. Hundreds of bands and thousands of entertainers over three decades. Within these pages are the memories and the experiences of those people and places. These are the original articles and interviews published in several local newspapers that covered the Tucson entertainment scene over the decades. Follow their stories through the years– the big breaks, record releases, hot performances and duds, break ups, tragedies, personal insights and struggles.
---
Tucson Entertainment Book
---
Tucson Restaurant Coupons
Use discount restaurant coupons for dining at dozens of restaurants locally and thousands of registrants across the nation. This Week's Online Offers for Tucson restaurants.
New discount restaurant dining gift certificates from some local restaurants through Restaurant.com. Check out the latest offer,
---
2015-2020 © Entertainment Magazine and BZB Publishing, Inc., Robert Zucker and Newsreal, Jonathan L. All rights are reserved. These are the compiled works of contributed materials from writers and photographers previously published in the Tucson Teen, Magazine, Entertainment Magazine and Newsreal newspapers, and from Entertainment Magazine On Line (EMOL.org). No part of the material protected by this copyright may be reproduced or utilized in any means, electronic or mechanical, without written permission from the publisher.
Permission is granted to use quotes and cite references to the contents in this book with proper credit noted: "Entertaining Tucson Across the Decades," © Entertainment Magazine.
---
---
© 2015-2020 BZB Publishing, Entertainment Magazine. All rights reserved.