Entertainment Magazine: Entertaining Tucson
By Lynne Rundle
March 1986– Entertainment Magazine. Page 3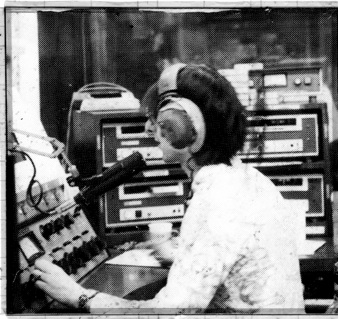 Ed Alexander, KCEE-AM Disc Jockey, on the air. March 1986, Entertainment Magazine, page 3.
d Alexander
is presently the morning announcer and music director at 790 AM
KCEE
. He has worked there since January and he loves every minute of it. Ed's job involves many activities and it keeps him very busy. Not only does he work under the general manager keeping contacts with record companies, taking care of the light work and services needed around the studio, he makes recommendations about what music should be played and what promotional contests are run. He also has his place as a DJ, and makes several appearances.
Ed has done everything from visiting schools to MC'ing major acts such as early Kiss, Lionel Richie, and the Beach Boys. He has also done a lot of public relations work. He has participated in events such as roller derbies, telethons, and Superwalks for charity. Recently, he took part in the Balloon Fiesta, the Michael Landon Tennis Tournament, and the Tucson Rodeo weekend parade.
All this running around and appearing at local premiers, Ed claims, is the fun part of his job. He is one of few men who know what he wants from life and is succeeding in doing just that. Working at KCEE is exactly what he is cut out to do. The older rock, more adult music is what he enjoys and is most familiar. He also loves the excitement and the benefits. That includes a record collection of some odd 3,500 albums and what he believes to be the highlight of his career– being backstage with Paul McCartney during a contest.
Though the radio business is not very profitable in Tucson, it's the excitement that keeps Ed here. He has lots of fun and it keeps him occupied. While he has the opportunity to leave and work in a more populated city where the money is, he's perfectly content in Tucson.
Ed loves the weather and there is not much of the rat race for him to deal with here. He said it depends on the person and what their goals are as to what kind of life they lead. But he is the type of person who is very happy with just getting by and having a great time doing that.
His career seems to be very dear to him. Nothing he does is the same, and he never gets bored. "It's very exciting because it's always something different. You're always meeting new people," states Ed.
After graduating from Rincon High School, he spent a year and a half attending the University of Arizona trying to decide what he wanted from life. During this time he changed majors several times from business to liberal arts. He finally got bored and left to do what he had wanted to do since he was a kid. Ed got a job at a local record store for a couple years. Bob Holiday, who worked at KAIR at the time, was the manager. Ed mentioned it to him that he wanted to play music, so Holiday showed him the ropes. After a lot of practice, he made a tape and took it to KWFM. "I just kept banging on the door until they got tired of me and gave me a job."
"There are schools you can go to, but you either have it or you don't," Ed remarked. There is no formal education needed, but it can always help as a backup.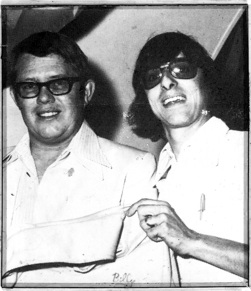 Ed Alexander (left) posing with Billy Carter . March 1986, Entertainment Magazine, page 3.
Other side jobs have been prominent in his life. Ed has worked in bars, clubs, and even had a mobile music system about ten years ago. He would play at private parties and dances. He was only in it for the extra money and the fun, and eventually, got tired of moving around.
It was then when he got the job at KWFM, while it was still free form progressive rock and the only FM station in Tucson. He lasted a year, then moved on to spend a year and a half at KHYT, and later spent 12 years working for the ever-popular rock 'n roll station KTKT. He was program director and took care of everything including on the air affairs and sales. When it comes down to doing his show (from 6:00 am-10:00 am every weekday), Ed Alexander is the same person he is face-to-face. He does not use a different voice or put on an act. He is not a comedian, and is not sarcastic of crazy. He tries to be warm, friendly, informative, and trivial to provoke interest among his listeners. He portrays himself as having a good time, and conveys the message "Enjoy life and live it up." While Ed entirely enjoys what he does, he can't see himself doing it forever. As he put it, "I don't want to be another Dick Clark with three facelifts!" He has been working in the radio field for 16 years, and feels he is almost 'grown up' and has to move on. He has enough contacts and seems interested in being involved in promotional P.R. for big businesses. It has to be somewhere in the southwest, though, because he's not going anywhere!
All in all, Ed Alexander stresses all the fun and excitement he gets from what he does. He does good things for people, and is kept very busy. "I get bored if there's nothing to do. It's always go, go, go!"
---
---
Now Available
From Amazon.com
by Robert E. Zucker
The local entertainment scene in Tucson, Arizona during the 1950s through 1985 was vibrant– from the '50s rock and roll of the Dearly Beloved to the '80s with the Pills, Giant Sandworms and everything in between– classic rock, disco, alternative, punk, hard core, country, swing and Big Band. Hundreds of bands and thousands of entertainers over three decades. Within these pages are the memories and the experiences of those people and places.
These are the original articles and interviews published in several local newspapers that covered the Tucson entertainment scene over the decades. Follow their stories through the years– the big breaks, record releases, hot performances and duds, break ups, tragedies, personal insights and struggles.
Purchase copies of Entertaining Tucson Across the Decades
on amazon.com.
Tucson Entertainment Book
Tucson Restaurant Coupons
Use discount restaurant coupons for dining at dozens of restaurants locally and thousands of registrants across the nation. This Week's Online Offers for Tucson restaurants.
New discount restaurant dining gift certificates from some local restaurants through Restaurant.com. Check out the latest offer,
Return to Entertaining Tucson
Volume 2 Home
---
© 2015 BZB Publishing, Entertainment Magazine. All rights reserved.