Entertainment Magazine: Entertaining Tucson 3
Transcribed by Nicole Gonzalez
Radio Interview by Margie Rye for "Tucson NightLife." February 1991– Entertainment Magazine, page 13.
If you are wandering around town this weekend you might be wondering where the Big City R&B sounds are coming from. They're from none other than the legendary soul man, Sam Taylor with his band, In Your Face Horns who will be playing at Dirtbag's West, Famous Sam's and Café Sweetwater this month.
Sam Taylor has been writing, playing, and singing the blues for almost 40 years. His '50s hit, "Maxine Brown," has put his name among the popular artists of rhythm and blues such as B.B. King, Sam Cooke, and Brooke Benton.
On a recent Friday night, before his show at Dirtbag's West, Sam spoke with Entertainment Magazine and Margie Rye during a taping of a radio broadcast episode of "Tucson Nightlife."
Sam, where did you get started?
I've been playing for 37 years, but I've been singing since I was about three with my mother and two sisters. I left Alabama when I was 11 for New York. I was going to be a boxer. That was my first love, but somewhere along the line, I wanted to play. I had my little gospel group and we had a guitarist. Every time it was time for us to go to church and do a gig, he was somewhere full of wine, so I went and got me a little guitar from Sears & Roebuck for $26.
What happened from there?
From there, I started writing poetry when I was a little kid and got busted in school for writing some things to girls that 1 shouldn't have been writing about. I wrote my first song to a girl named Maxine Brown that was pretty popular in the 50's. My career really started from there. I was a guitarist and musical director because I knew it from gospel when we were kids. When I was coming out of the service, I started playing professional.
Tell us about your current album.
This is the second one I've recorded since I've been in Tucson and I think it may be better than the first one, but the first one I did was the best one I've done in my life! I had a little problem with the first one. The critics have said that it's not bluesy enough and others said it's too bluesy... I'm out of copies now, so it must be something.
You've influenced many people, right?
Georgie & the Starlighters, Millie Jackson
Oh, goodness, I could go on and on. I spent the early part of my career playing for people that I was teaching. They were the stars when I was doing the playing, but my time's now.
What's going on with you and Barbara Eden?
Oh, God, I knew you were going to ask that. I did a part on a TV sitcom on the Disney channel called "Brand New Life" and I played lead on the show. She found out how many kids I had (13), and every time we'd get to a part where we had to be close together, she would whisper something to me. Then I'd crack up and it'd just blow the scene and we'd have to do it over again. And I got her back 'cause I'd look at her and say, "I know you didn't get all that in no bottle, either." She's a great gal.
You mentioned earlier that you have 13 children and one of your daughters will be singing tonight. What new project are you working on with them?
I did some readings for "In the Heat of the Night." My daughter, son, and nephew– we all play slaves in it. I hope that it comes through.
From the blues to the movies are you about to become another Clint Eastwood?
No, that's really not my bag. I can do it, but with any singing, you gotta be believable. I live my songs. That's my life. I wouldn't trade that stage for the screen.
"Milky White Way Someday" is the title of your soon to be published autobiography. What was it like to look back over your life?
Some of the things were really painful to relive. 1 just told it like it was. Once, 1 had to sing my way out of jail and one gig 1 played at 1 took a shotgun from a guy who was coming down to the bar to shoot the bartender. 1 wouldn't try that again. Some real funny things and some really serious things.
Are we going to see it published soon?
Good Lord willing and the creek don't rise. I hope so. I want to see it turned into a movie. In fact, it would be a heck of a series. I'm gonna call it "The Chitlin Circuit." There were places in the early '50s where all the blacks played. That was called the "Chitlin' Circuit." In some of the places that we played, we had to figure out a way to get our money. We would come out sometime at the end of the night and all of our tires had been flattened. They would block the road coming out from the club and rob us. Things like that it's a part of music that should be told. No one has really touched on that.
So, what do we see for Sam in '91?
There ain't no way to go but up! I think something tells me it's going to be my year. My main goal is to try to put the blues in its rightful place because it's as American as apple pie. People can't like what they don't hear. We gotta get it played. If you think that the blues is, "Oh, my baby's gone and I'm about to die," you got a hole in your soul and you never eat chicken on Sunday.
Watch "Tucson Nightlife," a soon-to-be broadcast entertainment magazine program co-produced by Entertainment Magazine and Access Unlimited with a feature interview of Sam Taylor with host Margie Rye.
Sam Taylor and Dirtbag's West advertisement, February 1991, Entertainment Magazine, page 13.
Return to Volume 3 Home Page.
---
---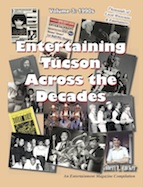 Purchase on Amazon: Entertaining Tucson Volume 3: 1990s
is available on Amazon.com at a discount.
To purchase locally, in Tucson, at Club Congress, Mostly Books, and Summit Hut locations.
---
"Entertaining Tucson Across the Decades:
Volume Three:" 1900s
2015 © Southwest Alternatives Institute, Inc.
2015 © Entertainment Magazine and BZB Publishing, Inc., Robert Zucker.
All rights are reserved. These are the compiled works of contributed materials from writers and photographers previously published in the Tucson Teen, Magazine, Entertainment Magazine and Newsreal newspapers, and from Entertainment Magazine On Line (EMOL.org). No part of the material protected by this copyright may be reproduced or utilized in any means, electronic or mechanical, without written permission from the publisher.
Permission is granted to use quotes and cite references to the contents in this book with proper credit noted: "Entertaining Tucson Across the Decades," © 2015 Entertainment Magazine."
Published by BZB Publishing, Inc. P.O. Box 91317, Tucson, Arizona 85752
Gina Torres-Vanasse, Intellectual Property Assessor
Email: [email protected]
Web: http://emol.org/ and http://entertaintucson.com
Printed in the United States of America by CreateSpace, an Amazon.com company. Available for sale through Amazon.com and other outlets.
---
© 2015 BZB Publishing, Entertainment Magazine. All rights reserved.