Entertainment Magazine: Entertaining Tucson 3
By Katherine von Holzer
May 1991– Entertainment Magazine, page 16
The seed that gave birth to what is now known as the Bourbon Street Jazz Band was planted about 1963 when the Tin Ear Cocktail Lounge opened at 2420 N. 1st Avenue. The Tin Ear featured Ragtime, and Honky-tonk music, except on Sunday nights, when Jack Cavan's Riverboat Six played Dixieland Jazz.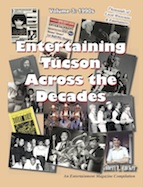 Some of the musicians that played at the Tin Ear, and other local musicians interested in Dixieland music, got together on Sunday afternoons at Bob Springate's home, to "jam" and eat barbeque. Sharing the leadership was Al Saunders, who played accordion, and then, after some "woodsheding," returned to the banjo. Other "jammers" included Red Sather, Jim Schultz, Jim Hockings, Fritz Glover, Joe Walsh, Bill Williams, Rudy Stiebrs, and Art Pepin. When Cavan's job terminated at the Tin Ear, he joined the group for a short time.
Al was ready to form a Dixieland Band, and in 1964, he went to see Manny Treumann, who had retired from the Air Force and was opening a Dairy Queen, at 12th Avenue and Ajo Way. Manny was very interested in being a part of the band. Al said, "So, I got the guys together, and we went out to ballyhoo Manny's grand opening. We played a couple of hours and drew quite a crowd."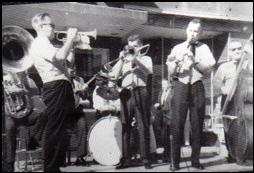 The Old Pueblo Jazz Band from 1962, Entertainment Magazine archives.
The Old Pueblo Jazz Band (OPJB) emerged with Al Saunders as leader. On banjo was Bob Springate on drums, Rudy Stiebrs on bass, Manny Treumann on comet; Red Sather on clarinet; and Jim Hockings on trombone. After weeks of rehearsing, their first "big" job was in June 1964, playing for the grand opening of the newly refurbished Schieffelin Hall, in Tombstone, Arizona. The band played about a half-hour concert in front of the Hall at 10:00 am. He then marched inside, leading the assembled audience, and played another half-hour or so. At noon, they played for a barbeque at the O.K. Corral for a couple of hours, and then a four-hour dance that night in the Crystal Palace. About halfway through the gig, Manny told Al, "Man, my chops are gone." Al told Manny to take a break, get a drink, and relax. Al then put the piano player, Wally Neal, on trumpet, and invited Violet Lux, a piano player from Bisbee, to sit in. After about six choruses of "Indiana," Al said, "Manny came back to join the group, and blew up a storm the rest of the night."
That same year, the OPJB followed the Phoenix based, Desert City Six into Quick Draws, in Casa Grande, Arizona, for an extended engagement, with Pete Daily, on trombone, and Joe Marco, piano. Since Manny had trouble remembering the bridge to "Do You Know What It Means To Miss New Orleans," Pete wrote it out for him on a Christmas card; and Manny carried the card in his comet case. According to Al (He tells very interesting stories), "When the front line stood up for the opening ensemble, Manny placed the card on Red's stool. At the end of the chorus, everyone sat down except Manny, who had the first solo. As he approached the bridge, he looked frantically at Red's stool, now occupied by Red. Pete caught the action and said, 'Stand up Red,' to which Red replied, 'Hell, it ain't my chorus.'"
Also in 1964, the OPJB did the late, late show at the Tropical Inn (Tl) that used to be on Speedway. They went "on" about 1:00 am, after a trio had finished their gig, and played until 4:00 am. From the TI, Al booked the band for a two-week gig at the Wooden Nickel on Country Club. Al said, "The band bombed. The crowd wanted Country Western music.
In 1965, Jim Hockings was back on trombone, with Jim Berry on clarinet, when the OPM was booked for a 13-week engagement at The Dunes on Speedway. Al and Jim did a short stint with Jack Cavan's Riverboat Six at The Beachcomber on 22nd Street, and then the OPJB returned to The Dunes for another 13-week gig.
The OPJB was on hand to welcome members of the Arizona Congressional delegation for the dedication of the first self-service post office in Tucson. Believe it or not, the facility was located in the north parking lot of the El Con Mall. That was September 17,1966. Shortly after this, Jim Berry was replaced by Jack Hollis (Red Sather and Al Boyd had gone to work for Boeing Aircraft in Seattle, WA), Bob Springate left town, and was replaced by John Harrison. Manny went to Europe (to play golf), and was replaced by Al Smith, who now has The High Sierra Jazz Band, in Three Rivers, California. Rudy Stiebrs quit and was replaced by Bob McDonald on piano and was replaced by Rupe McCanon, bass.
After a two-month bout with the flu in 1967, Al left the band. Red returned from Seattle, and reorganized the group as The High Society Five. With Manny on comet, as leader in 1969, Red Sather was on clarinet, Jim Hockings on trombone, with Al Boyd on drums, and Clarence "Clare" Svendsen on piano. One of the many places the newly formed group played was the Jester's Court, on Tanque Verde Road, where two black panthers were housed across the back of the stage.
It was 1973 when the name of the band changed again. They were billed as the Bourbon Street Five when Eddie Lain booked the band at Gus & Andy's, and became the trombonist, and leader, for the group.
Manny took over the band again in 1974, added Len Ferrone on bass, and billed the group as the Bourbon Street Jazz Band, with Jim Hockings back in the trombone slot. When the Bourbon Street Jazz Band was invited to perform at the Sacramento Dixieland Jubilee International Festival in 1976, the frontline consisted of Manny, comet; Red Sather, clarinet; Jim Hockings, trombone; with Len Ferrone, bass; Al Boyd, drummer, and Neil Spaulding, piano. Neil had been the accompanist for Phil Harris for 11 years, and during one of their performances, Phil Harris surprised everyone when he went on stage and gave Neil a big hug.
From 1979-1987, the BSJB played at Gus & Andy's. The front line stayed the same, and Tom Lommel, drums, and Clarence Svendsen, piano, joined Len in the rhythm section. Mary Jane joined the band in 1981, when Clarence retired, and Ed Ross became drummer when Tom left. Bill Eagle, trumpet, took Manny's place in 1983. Manny passed away in April 1984. By popular demand, the Bourbon Street Jazz Band returned to Gus & Andy's the 4th of January 1991. During the three-year intern, Ed Ross retired, and Pete Swan is the current drummer.
Ferrone, bass, is in charge of all band instrument repairs for the Tucson Unified School District, and has traveled extensively throughout Europe and Australia, playing Tuba, as a member of Beaver's Concert Band. Mary Jane, piano, is accredited as a professional in the book, "Jazz Women At The Keyboard," and she has played for President Dwight D. Eisenhower, at his request. She has played professionally since age 15. Pete Swan, drums, is a full-time musician. He is the Director of the Pima College Jazz Band, and the Band Director at Salpointe High School.
Jim Hockings, trombone, is a local architect. Prior to opening his own private practice, he designed the original University of Arizona College of Medicine, now known as the University Medical Center (UMC), while employed with the large architectural firm of Friedman & Jobusch.
Red Sather, clarinet, is a retired hair designer, enjoying his retirement, and trying to "perfect his clarinet playing." Red traveled around the Midwest with various road bands, and said, "I was headed for the Big Time, when Uncle Sam sent me an invitation to join his WWII group instead."
Bill Eagle, trumpet, is a retired State Accountant; and teaches trumpet at Maranatha School, in addition to being a Literacy Volunteer with the Job Corps.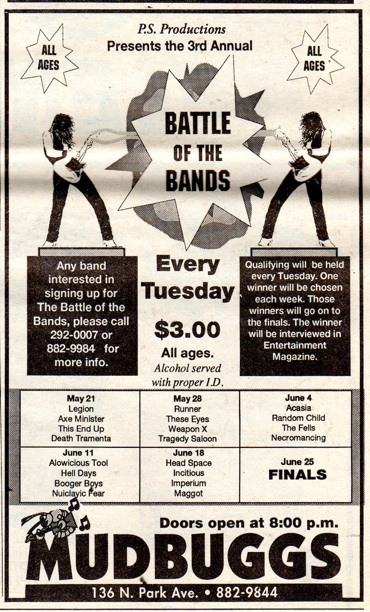 My sincere thanks to Al Saunders, Bill Treuman, Mr. Clayton, with The National Tombstone Epitaph; Mr. RB. Bechtel, of The Postal History Foundation; the Arizona Historical Society, and the current band members, for their time and cooperation, that was necessary in making this story possible.
Return to Volume 3 Home Page.
---
---
Purchase on Amazon: Entertaining Tucson Volume 3: 1990s
is available on Amazon.com at a discount.
To purchase locally, in Tucson, at Club Congress, Mostly Books, and Summit Hut locations.
---
"Entertaining Tucson Across the Decades:
Volume Three:" 1900s
2015 © Southwest Alternatives Institute, Inc.
2015 © Entertainment Magazine and BZB Publishing, Inc., Robert Zucker.
All rights are reserved. These are the compiled works of contributed materials from writers and photographers previously published in the Tucson Teen, Magazine, Entertainment Magazine and Newsreal newspapers, and from Entertainment Magazine On Line (EMOL.org). No part of the material protected by this copyright may be reproduced or utilized in any means, electronic or mechanical, without written permission from the publisher.
Permission is granted to use quotes and cite references to the contents in this book with proper credit noted: "Entertaining Tucson Across the Decades," © 2015 Entertainment Magazine."
Published by BZB Publishing, Inc. P.O. Box 91317, Tucson, Arizona 85752
Gina Torres-Vanasse, Intellectual Property Assessor
Email: [email protected]
Web: http://emol.org/ and http://entertaintucson.com
Printed in the United States of America by CreateSpace, an Amazon.com company. Available for sale through Amazon.com and other outlets.
---
© 2015 BZB Publishing, Entertainment Magazine. All rights reserved.