Entertainment Magazine: Entertaining Tucson 3
By Charley Yates
September 1990– Entertainment Magazine, page 3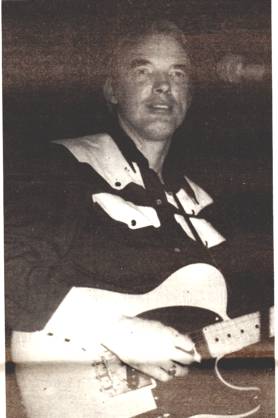 Bobby Mahon photo by Mitzi Valenzuela , September 1990, Entertainment Magazine, page 6.
Tennessee Ernie Ford used to say, "Well, bless your lil ole pea pickin' heart" on his shows and concerts– with that warm southern charm most Tennessean's have.
Bobby Mahon has that charm as well. He projects a certain old fashioned southern gentlemanship to an audience when he performs. Unlike Tennessee Ernie, Bobby isn't a pea picker, but a very good guitar player, singer and entertainer. Bobby has a very bright career ahead of him. He was born and raised in Nashville. When his name is mentioned there, well, everyone knows "Bobby."
Tucson is beginning to know Bobby as well. His style of good ol' southern pickin' is becoming a favorite among the locals. This reporter had the pleasure of performing with him on stage a few times recently.
Born in Franklin, Tennessee, Bobby started playing professionally at Nashville clubs at age 12. At 15, he was already playing recording sessions and began to work on the road, opening for many Nashville artists.
Eventually, Bobby started performing his own shows with his own band. His first records were released in 1972 called "How Can You Tell Your Lover Goodbye," and "Doors."
Bobby has toured Canada a few times, in 1974 and 1978, and most recently in 1988 when he appeared on the Canadian Broadcasting Network on "Entertainment Canada" and "Entertainment Saskatchewan." Bobby has also appeared on the "Ralph Emery Show" in Nashville and the "Sounds of Tucson" in Tucson. His first West Coast tour in 1983 took him on the road for nine months.
Bobby also has some movie credits under his bell He briefly appeared in scene in "Sweet Dreams," "Marie," "The Last Days of Frank and Jessie James," and the remake of "Stagecoach." In 1986, he opened his publishing company, Four Leaf Clover Productions. His recent release, "Country Side Up," is now available.
Bobby and the High Plains Drifters will be featured all month long at the Butterfield Junction, Wednesdays through Saturdays, with an Open Jam on Sunday evenings. The best time to catch Bobby is now, before he's back on the road again.
By Eric Schimmel
September 1990– Entertainment Magazine, page 7
Inspite of a suffering economy, Tucson's live music scene continues to nourish. With many national recording acts and fine local musicians playing the few available clubs, Tucson's music calendar for September is exceptional. In the beginning of September, the Runes Café resumed its Downtown Saturday Night Concert Series with Los Lasers and L Mondo Combo on September 1st, followed by Manzanita on September 15th.
Los Lasers will be performing music from their new record soon to be released. Manzanita is a new entry into the local band market. They combine Reggae with R&B for a very danceable sound. Last minute addition is the Arizona Rainforest Alliance Benefit at Rune's Café with Major Lingo, Manzanita, Pulse and Brain Damage Orchestra.
Also, in early September, Club Congress reinstates live music on Fridays in a novel approach. Combining the recorded dance grooves of killer DJ Spyder Rhoades with a different live band every week, CC offers excellent dance/live music under one roof. Gila Bend, one of Tucson's most poplar new bands will headline on September 7th.
As always, Mudbuggs will have several major concerts this month, including the Electric Boys with Company of Wolves on September 15th. Both groups are riding high one chart busting new records. The tape release party for Tucson's own rock/funkers Helen Hammer will be on September 12th at Mudbuggs and Gila Bend's Boogie Night on September 19th.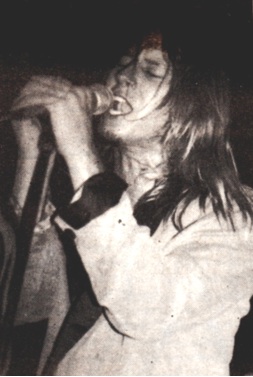 Helen Hammer member photo by Mitzi Valenzuela .

By Neil D. Costin
September 1990– Entertainment Magazine, page 8

Local saxophonist Jed Paradies, founder of the band Jed Paradies and the Jazz Terrorists, have been playing to contemporary Jazz audiences at local clubs for over a year. Paradies and his group, using the name Jazz Logic, recently released a cassette of all original material, called "Obsession."

Joining Paradies are musical colleagues Craig Faltin (acoustic and electric bass guitar), Fred Hayes (percussion and drums), and one of Tucson's most active guitarists, Howard Wooten.

Former Tucsonan Jeff Daniel is heard as guest keyboardist. Paradies utilizes the soprano and tenor sax, plus the sweet sounds that emanate from a flute. The music on Paradies "Obsession" is definite WAVE music, yet would likely fit any locally heard Jazz format, as exemplified by Wooten's composition "Softly."

Listeners who've never seen one of the Jazz Terrorists many club appearances need only imagine similar sounds to those of Grover Washington, Jr., and Branford Marsalis, to name a few, to acquaint oneself. "Obsession," the cassette only release by Jazz Logic, is just right for listeners of contemporary Jazz, with a bit of past influences.

Return to Volume 3 Index.
---
---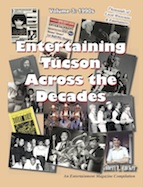 Purchase on Amazon: Entertaining Tucson Volume 3: 1990s
is available on Amazon.com at a discount.
To purchase locally, in Tucson, at Club Congress, Mostly Books, and Summit Hut locations.
---
"Entertaining Tucson Across the Decades:
Volume Three:" 1900s
2015 © Southwest Alternatives Institute, Inc.
2015 © Entertainment Magazine and BZB Publishing, Inc., Robert Zucker.
All rights are reserved. These are the compiled works of contributed materials from writers and photographers previously published in the Tucson Teen, Magazine, Entertainment Magazine and Newsreal newspapers, and from Entertainment Magazine On Line (EMOL.org). No part of the material protected by this copyright may be reproduced or utilized in any means, electronic or mechanical, without written permission from the publisher.
Permission is granted to use quotes and cite references to the contents in this book with proper credit noted: "Entertaining Tucson Across the Decades," © 2015 Entertainment Magazine."
Published by BZB Publishing, Inc. P.O. Box 91317, Tucson, Arizona 85752
Gina Torres-Vanasse, Intellectual Property Assessor
Email: [email protected]
Web: http://emol.org/ and http://entertaintucson.com
Printed in the United States of America by CreateSpace, an Amazon.com company. Available for sale through Amazon.com and other outlets.
---
© 2015 BZB Publishing, Entertainment Magazine. All rights reserved.