Entertainment Magazine: Entertaining Tucson 3
Tucson Nightlife Updates for May 1990
By Peggy Rose
June 1990– Entertainment Magazine, page 11
Swinging down the lane, don't forget the Baron's Restaurant at Wilmot Road and Golf Links Road featuring a mixture of swing and Jazz with the Mickey Greco Quartet and vocalist Peggy Rose on Sundays, 7:30 pm to 11:30 pm with dancing. On Monday, there is more good swing and Jazz with the Cass Preston Quartet starting at 8:30pm. Keep those dancing shoes on.
You can follow Cass Preston on over to Faye Anne's Memory Lane, 51 S. Pantano Road at Broadway Blvd. He is there Tuesdays at 8:30 pm. On Wednesday and Thursday, call to find out who is playing, and as of this printing, Avalon is playing Fridays and Saturdays with dancing. Music starts at 8:30 pm.
Now, if you are a Cass Preston fan and a lover of elegance, you can once more follow Cass to Loew's Ventaña Canyon Resort where he plays with Frederick in the attractive cocktail lounge. Dancing and music start on Thursday at 10:00 pm, Friday and Saturday at 9:00 pm.
As the crow flies across Tucson, you'll find more swing and Jazz with a Dixie flavor at Gus & Andy's Steakhouse on Oracle Road. John Denman will be gone for several weeks to England. Len Ferrone will be holding down the Fort and bringing you many pleasant musical surprises. He plays on Fridays and Saturdays at 8:30 pm.
Peggy Rose continues her summer sojourn in Green Valley at the Easy Street Lounge in the Arizona Family Restaurant. Peggy sings swinging Big Band ballads and some selections from other genre with recorded music from 8:00 to 11:00 pm.
The Elks Lodge on River Road is still featuring Clint Harrison and wife Lois. If you're not an Elk, find one, get invited to see and hear Clint. It's good entertainment you won't want to miss. They perform Thursday through Saturday, 7:00 to 11:00 pm and Sundays 6:00 to 10:00 pm.
Return to Volume 3 Index.
---
---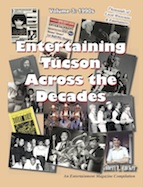 Purchase on Amazon: Entertaining Tucson Volume 3: 1990s
is available on Amazon.com at a discount.
To purchase locally, in Tucson, at Club Congress, Mostly Books, and Summit Hut locations.
---
"Entertaining Tucson Across the Decades:
Volume Three:" 1900s
2015 © Southwest Alternatives Institute, Inc.
2015 © Entertainment Magazine and BZB Publishing, Inc., Robert Zucker.
All rights are reserved. These are the compiled works of contributed materials from writers and photographers previously published in the Tucson Teen, Magazine, Entertainment Magazine and Newsreal newspapers, and from Entertainment Magazine On Line (EMOL.org). No part of the material protected by this copyright may be reproduced or utilized in any means, electronic or mechanical, without written permission from the publisher.
Permission is granted to use quotes and cite references to the contents in this book with proper credit noted: "Entertaining Tucson Across the Decades," © 2015 Entertainment Magazine."
Published by BZB Publishing, Inc. P.O. Box 91317, Tucson, Arizona 85752
Gina Torres-Vanasse, Intellectual Property Assessor
Email: [email protected]
Web: http://emol.org/ and http://entertaintucson.com
Printed in the United States of America by CreateSpace, an Amazon.com company. Available for sale through Amazon.com and other outlets.
---
© 2015 BZB Publishing, Entertainment Magazine. All rights reserved.