By Nick Nicolas
December 1990 – Entertainment Magazine. Page 5
These articles on Rex Allen are republished in "Entertaining Tucson Across the Decades".
Rex Allen [1] is one of only a handful of silver screen cowboys who actually came from a cattle ranching background. Rex hailed from Willcox, Arizona– about 80 miles east of Tucson. He learned to ride almost as soon as he could walk, and helped with the livestock and ranch chores before and after school.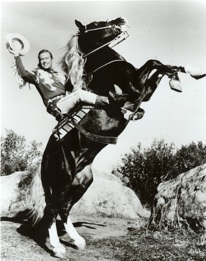 From early childhood, music filled the Allen house. His dad played fiddle and Rex learned to play a Sears Roebuck mail-order guitar to accompany him at dances. Wherever and whenever possible, he would sing. At age 12, he had a fine bass voice that spanned three octaves.
For awhile, young Allen considered competing professionally in rodeos, but found riding a two thousand pound bull was quite a different story from the steers he'd conquered locally. Music was undoubtedly more rewarding and definitely a lot safer. But he never lost his love for the rodeo and its bronco and bull riders, many of whom became good friends.
Rex left Willcox in the early '40s and worked various jobs in the east while waiting for his big break. The break came in 1945, when WLS in Chicago gave him a job on the National Barn Dance. During that time, Mercury Records signed him and released his first hit "Take It Back and Change It For A Boy."
In 1949, Republic Pictures in Hollywood gave him a screen test. Allen negotiated his own contract, something unheard of at the time, and after almost six months of watching from behind the scenes, made his first Republic picture, "The Arizona Cowboy." And Rex Allen became forevermore known as "The Arizona Cowboy."
A second film, "The Hills of Oklahoma," saw the introduction of "Koko the Wonder Horse," the stallion who would carry him in 18 westerns and accompany him on almost a million miles of personal appearance tours across the country.
At the height of his movie popularity, Dell Comic Books published 30 Rex Allen comics and his picture appeared on cigarette cards, Dixie Cup lids and dozens of other promotional items. But for many people, he is most familiar as the narrator of over one hundred Walt Disney TV shows and movies. Literally thousands of TV and radio commercials throughout the country featured that distinctive, deep voice pitching everything from fertilizer to trucks, and racetracks to cowboy boots.
In 1989, the Rex Allen Arizona Cowboy Museum opened in Willcox, as a tribute to the man who never forgot his roots. The town also hosts the annual Rex Allen Days in October that features a golf tournament, PRCA rodeo, musical concerts and events for the whole family. It began back in 1951, and he's never missed appearing there. There is a Rex Allen star on the Hollywood Walk of Fame. Other cherished honors include being elected the Rodeo Man of the Year, the first recipient of the Golden Boot Award and being inducted into the Cowboy Hall of Fame.
Photo of Koko the Wonder Horse, courtesy of Rex Allen.
---
Tucson Entertainment Book Now Available!
---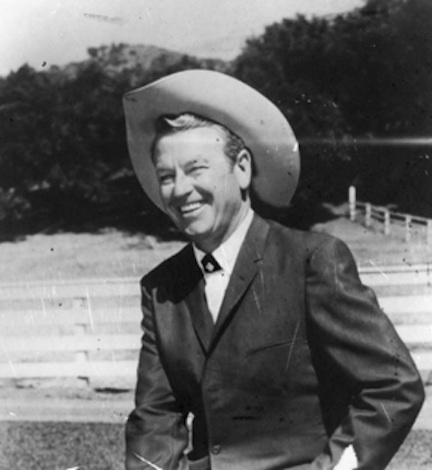 This articls on Rex Allen is republished in
"Entertaining Tucson Across the Decades".
By Nick Nicholas and Michelle M. Sundin
September 1991 – Entertainment Magazine. Page 15
Just before the dedication of a bronze statue of famed Western singer and actor Rex Allen on July 20, 1991, this reporter visited with Rex at this ranch near Sonoita to spend an enjoyable afternoon talking with him about his life and show business career. The following are highlights of that conversation.
Rex, you were born and raised here in Arizona and you had a real cattle and horse background. Tell us a little about those early days.
I was born in my grandmother's house in Willcox and shipped back to the homestead a week later and didn't get back to town until I was five or six years old when my older brother, Wayne, was bit by a rattlesnake. We lost him because there was no medical care within 40 miles so there wasn't much that could be done.
You also had a couple of famous cousins in show business, didn't you?
Yeah, Glenn Strange who made a ton of westerns and was more familiar as the bartender in Kitty's "Long Branch Saloon" in "Gunsmoke." Did you know that he was also the first Frankenstein in the movies? It was a non-speaking role in which he just lumbered through the picture. This was way before Boris Karloff.
I believe you first met Roy Rogers through your other cousin, Cactus Mac Peters, who had the first band Roy performed with.
The O Bar O Cowboys– they came through Willcox during their first barnstorming trip where Mac called it quits. But Roy and Tim Spencer and the rest of the guys went on to New Mexico and Texas. It was during this trip that Roy met his first wife in Roswell.
When did you first begin singing and performing?
I can't really remember. But, I used to go down to the barbershop in Willcox down on Main Street and I thought that was the biggest audience in the world. I had a hat turned upside down in which the men would throw nickels in. Some days I'd make thirty cents, usually, on Saturdays.
You've received numerous compliments through the years for both your excellent guitar playing and more so, as an outstanding yodeler.
My kids liked it. Can't yodel much anymore, unless I rear way back and just let go. Take a deep breath and I can do it.
You were a rodeo performer, especially locally. Did you make any money at it?
No, but I rodeo'd just long enough to realize that I was no Jim Shoulder or Casey Tibbs, even though I was pretty good as I rodeo'd in Willcox ridin' old milk cows and steers. When I entered the Tucson rodeo, I found out then that Rodeo was something else after I rode my first Brahma bull. I never knew why such a monster existed. After one trip on one of those, I decided to move to something safer like playing guitar.
When did you first leave home after deciding to try a singing career?
Well, I went to Phoenix first. I worked in construction during the summer and had a little radio show on KOY on Saturday afternoons for 15 minutes. From there I went to New Jersey, then Philadelphia where I did more radio, then, on to Chicago and the National Barn Dance. There, the whole world seemed to open up for me. I was on about 12 radio shows during the week ... for $12 a week!
This was around 1945 and I was saving money! You see, at that time, WLS and the "Bam Dance" was a Mecca for all country music. This was long before the Grand Ole Opry in Nashville that at that time was just a small town local show.
In fact, many of today's big country stars were calling me and asking how they could get on WLS and the National Barn Dance. In fact, the "Opry" performers at that time were getting $14. But, we in Chicago had a stronger union and were getting $30 a performance. And, we had national sponsors like Alka Seltzer and Phillip's Petroleum and we got nationwide exposure.
Was it about this time when you cut your first record and what was it called?
Some people from Mercury Records called me to cut a record called "Won't You Take It Back And Change It For A Boy." Two weeks after it was released it was a smash hit. Number one on all the charts. It sort of opened up the world for me.
How long did your recording career last?
It started a 30-year span for me. You know, Nick, it's much different today, as you know. It happens instantaneously today and recording artists don't stay on top very long. The only way they can go is down. There are no artists today with the talent of a Frank Sinatra, for example. Frank's had a 50-year career and he's still going! Rock stars today are lucky if they last two years.
When did you record your first western or cowboy song?
All I really wanted to be was a Western singer, but I kind of interspersed them as I went along. I recorded songs I wrote that people never heard of and songs, other people wrote which were not too well known. So, I was singin' 'em right along with the others.
What's the best pop record you ever recorded?
Well, the best selling pop record I ever recorded and once which has been real good to me was "Crying in the Chapel." It was both number one pop and number one country at the same time. Somehow, both pop and country disc jockeys started playing it and it stayed up there on the charts for 19 weeks and longer than that on the country charts. I sold over 3 million. Ten years after I cut it, Elvis Presley cut one, at which time RCA released mine once again. So we both did well with it.
Who's your favorite songwriter?
Without question– Bob Nolan– he's my favorite. After that, Billy Hill, Cole Porter, Irving Berlin, and you know, these last three were Tin Pan Alley writers who had never been west. They wrote some of the greatest western songs and they've lasted.
What about female songwriters?
Cindy Walker and Jenny Lou Carson. You know, Cindy Walker once showed me a song she's written and I told her that it was too "pop" for me. She said it wasn't and should be done country and told me that if I didn't do it, she'd take it to Eddy Arnold. Well, I didn't and Eddy recorded it. It was called, "I Really Don't Want To Know." Yeah, this "dum, dum" turned it down.
How did your movie career come about?
I think I sort of lucked into it. Roy Rogers was leaving the studio (Republic) to go into which was becoming a force to be reckoned with. The people at Republic still believed that the "B" Western wasn't through. They wanted me to go ahead with a few more and remembering that they discovered Gene Autry at the National Barn Dance in Chicago 25 years earlier. I felt it could happen again with me. They just came in and offered me a contract and I grabbed it. We did 19 Westerns in 11 years for Republic.
Let's talk about your museum (Rex Allen Museum) in Willcox. When did it open?
The museum opened about a year and a half ago (1989)... right across the park. That was the realization of a longtime project that we're proud of.
And the big day is July 20, 1991 when your big, beautiful bronze by Buck McCain will be unveiled and dedicated in your honor across from the museum. What about that?
Well, Buck flattered me pretty well. I gave him $5 an inch to cut down my waist and a dollar an inch to make me real handsome.
What is you favorite Rex Allen movie?
I watch some of the from time to time. There's one I made called "The Last Musketeer" which I think had the most believable story. Slim Pickens is in it. And I have to say that was my favorite. I also looked better in this one than I did in the others...
I see you in town occasionally where you drop in to record a modern commercial or two in a local studio. Are you doing much of this sort of thing these days?
I come to Tucson and record a few. I had been going to Orlando, Florida to film "Church Street Station" but don't do that anymore. I do an occasional guest shot on the Nashville network. But, you know, I've been in this business 50 years and there comes a time to quit. You know, retire, and do what you want to do. I'm retired! Oh, I still get involved in lots of things here in Arizona, mostly charity things. It's a food way to live the rest of my life. And, it's fun. But, I'd rather just sit and take it easy and the world goes by.
Recently, a book on your remarkable life was published in both hard and soft cover and is presently available both in bookstores and at the Rex Allen Museum in Willcox. Its title is ''The Arizona Cowboy, Rex Allen, My Life Sunrise to Sunset." Can we talk about it?
The funny part about doing the book was after they typed it all up and sent the galley back to me. I saw how bad my grammar was. So, I said, "For God's sake, fix my grammar because it was terrible." Well, they fixed it and corrected it. But some wanted to leave in some of the bad stuff and call it "casual conversation." There weren't many bad experiences to put in. The fun things are what you want to remember. The longer you live, the more you remember the good and pay less attention to the things that were not very pleasant. You forget those.
What would you still like to do?
Live to the year 2000, drink a toast to the new century and then check out…seriously. (Note: Rex lived until the year 1999).
Discount Tucson Restaurant Coupons
Use discount restaurant coupons for dining at dozens of restaurants locally and thousands of registrants across the nation. This Week's Online Offers for Tucson restaurants.
New discount restaurant dining gift certificates from some local restaurants through Restaurant.com. Check out the latest offer.
---
At a combination birthday-New Year's bash held in Willcox on December 31, 1989, Rex, as usual, was a hit. He entered the banquet room and his presence lit up the room.
Friends all got a smile, a handshake or a hug. The fans found out his patience and attention was genuine. Requests for autographs and photos were never turned down.
When he stepped up to the microphone, the applause was deafening. The audience's love glowed in their eyes. The magic was still there. The power of his million selling record, "Streets of Loredom," is still able to move the crowd.
Talking with Rex Allen was one of the greatest experiences and pleasures of this reporter's life. There was never a nasty word said about anyone. His friends circle the globe and cover all walks of life. His fan mail fills two tables, still, and he's embarrassed that he takes so long to get it all answered. He loves the good things about his life and remembers the fun most of all.
A mutual friend describes him best ... he's a born entertainer and performer. A gentleman, and a gentle man.
---
[1] Rex Allen passed away on December 17, 1999. He was born on December 31, 1920. Allen was 70 years old at the time of this interview.
© 1990 portions by Michelle Sundin, also printed in "Wrangler's Roast," Bristol, England and "Cowboy" in the U.S.
Rex Allen photos, biography and autograph, courtesy of Rex Allen, 1990. Entertainment Magazine archives.
2014 © Entertainment Magazine and BZB Publishing, Inc., Robert Zucker and Newsreal, Jonathan L. All rights are reserved. These are the compiled works of contributed materials from writers and photographers previously published in the Tucson Teen, Magazine, Entertainment Magazine and Newsreal newspapers, and from Entertainment Magazine On Line (EMOL.org). No part of the material protected by this copyright may be reproduced or utilized in any means, electronic or mechanical, without written permission from the publisher.
Permission is granted to use quotes and cite references to the contents in this book with proper credit noted: "Entertaining Tucson Across the Decades," © 2014 Entertainment Magazine."