---
This page is from the 3-volume set of "Entertaining Tucson Across the Decades," Download a free, 100 page, special edition digital PDF sample of selections from all three volumes, including the full Table of Contents, Indexes and a samples of historical articles and photographs. "Entertaining Tucson Highlights.
---
Between 1974 and 1994 several local tabloid newspapers reported on the Tucson, Arizona entertainment scene.
Althoug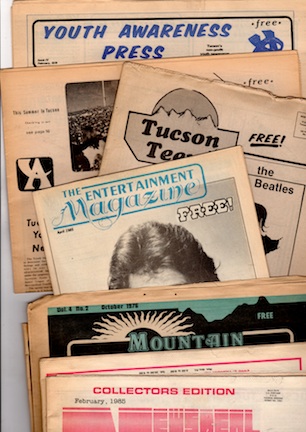 h these papers no longer publish, their archives have been preserved and collected into a compilation of articles and images to historically record Tucson's culture.
These articles cover a period of nearly 50 years of local entertainment– thousands of musicians, bands, actors and nightclubs.
All of the content is compiled from images and articles previously published in:
Youth Alternatives
Youth Awareness Press
Tucson Teen
The Magazine
Newsreal
When possible, the original photographs were used. Some images and displays are from publishers' archives. This first volume spans between the 1950s until the end of 1985. The second volume features 1986 through the early 2000s. Since these articles and advertisements were published at least 30 years ago, the schedules, addresses and events are no longer current.
(Photo above: Covers of the Tucson Teen, Youth Alternatives, Youth Awareness Press, Entertainment Magazine and Newsreal newspapers.)
The Youth Alternatives, Youth Awareness, Tucson Teen, Entertainment Magazine tabloid newspapers
The monthly tabloids were published through the Tucson YWCA until 1981. Southwest Alternatives Institute, Inc., a non-profit organization, then became publication sponsor. BZB Publishing, Inc. acquired rights in 2006.
Robert Zucker, the author, served as founder and publisher of all of the publications. Zucker spent over a decade teaching at the University of Arizona (1992-2005), taught at Pima Community College (1998-2005) and was advisor of Aztec Press for several years.
Entertainment Magazine Web Site: http://emol.org
(Photo: First editions of Youth Alternatives, Youth Awareness Press, Tucson Teen, Magazine, Entertainment Magazine.)
---
Now Available
From Amazon.com
---
Mountain Newsreal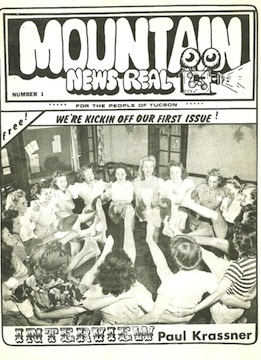 The Mountain Newsrealstarted in 1974 as a monthly alternative culture tabloid by Jonathan L and evolved into the popular music magazine, Newsreal.
Jonathan L is now an American radio presenter, programmer, and international entertainment media publisher who has lived in Berlin, Germany for the past four years.
His radio career began in Tucson, Arizona in 1982 at KLPX-FM with a show "Virgin Vinyl" which predates Alternative radio. He left Tucson in 1986 to start up alternative radio station KEYX-FM.
Jonathan L organized his first large music festival for alternative station KUKQ in Phoenix, Arizona in 1989, years before the launch of festivals like Lollapalooza and the KROQ Weenie Roasts. For this reason, he is often called the "Father of all radio festivals."
In 2005, he returned form Los Angeles to create "Lopsided World of L" which ran on Saturday mornings and Sunday evenings on KUPD-FM until he moved to Germany in 2010.
The "Lopsided World of L" is produced and presented internationally every week by Jonathan L from his flat in Berlin, Germany.
Lopsided World of Jonathan L Web Site: http://www.jlradio.com/