By Tina Alvarez
August 9, 1985 – Newsreal. Page 3
---
This page is from the 3-volume set of "Entertaining Tucson Across the Decades," Download a free, 100 page, special edition digital PDF sample of selections from all three volumes, including the full Table of Contents, Indexes and a samples of historical articles and photographs. "Entertaining Tucson Highlights.
---
It was bound to happen sooner or later– the Chuck Graham [1] look is in vogue and is being transmitted via mass communications. For those of you who don't know, or have missed him at rock events, Chuck Graham is Tucson's illustrious, humorous and ever-jaded music critic for the Tucson Citizen.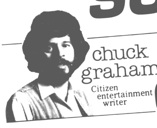 Many of us are familiar with seeing Chuck at concerts and clubs, decked out in his standard fare of faded Levi's, a rock t-shirt and of course, his famous flasher trench coat. Don't forget the beard and disheveled hair (as of late though, Chuck got himself a nifty haircut and even trimmed up his beard).
So now, after years of incessantly harassing Comrade Graham on his hair, his clothes, his reviews, his recorded messages on the phone and God knows whatever else, it turns out that he is a fashion classic. He knew all along what he was doing, stuck with it ... and I think that's rather scary. What's more frustrating is that it irks me to think all my friendly comments and good pieces of advice have gone to waste ("Hey, did you just get down from the mountain?" "Chuck, you need a haircut." "With that trench coat someone might think I'm hanging out with a flasher.")
Let me talk about "The Look" itself. The Chuck Graham Look is basically one you don't necessarily want to be seen associating with, but of course, with someone of Chuck Graham's status you have to bend the rules. The Look, which you may have noticed but have not been able to place, is very much the rage at Greyhound bus depots, parks, and soup kitchens, not to mention plasma centers and, of course, on reputable rock writers.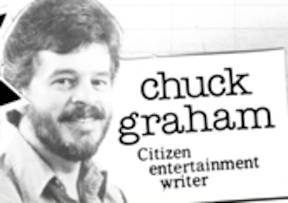 One of the main supporters of the Chuck Graham Look is Eurythmic Dave Stewart. World beware.
This occurring phenomenon didn't hit me all at once. It took me a while to figure out what was gnawing at the back of my mind, but it dawned on me when I was watching the Eurythmics' video "Would I Lie To You?" (for the thousandth time) that Dave Stewart is capitalizing on the Chuck Graham Look. Check this out: he has the same hairstyle as Chuck, he has a beard like Chuck and his levis are just as faded as Chuck's. Although he doesn't wear it in the video, Dave Stewart also owns a trench coat.
It looks pretty suspicious to me.
Not only that, I'm sure Dave Stewart was influenced by Chuck long before this video. Before Chuck got his new, suave "do" – when his hair was long and it looked like it needed something done to it – Dave Stewart also let his locks be mangy. And that sly little copycat sheared his head after Chuck did. I think this admiration thing is going a little too far.
And what's the most terrible thing about this is the fact Chuck is not going to get any credit. Everyone's going to think Dave Stewart started this mode of dress just because he's a popular musician, he's on MTV, in magazines and on the regular television programs like "Entertainment Tonight." Chuck, on the other hand, is stuck in Tucson. He lurks in corners casing out acts. He's very modest and doesn't strut his look around. And what credit is he getting for this I ask you?
If I were Chuck Graham, I'd be pissed.
Chuck has spent many a year honing his look. It's his. Who'd want it? From the looks of it– everybody. True, imitation may be the sincerest form of flattery, but let the right person be flattered. So I consider it my mission this month to let the world know that Chuck was the first and not Dave Stewart. Holy hell, every time you turn around someone in some band is trying to look like Chuck Graham.
Another thing that has me worried is that my friend has sold out. Yes, I hate to admit it, but I will anyway. Perhaps not intentionally, he has joined the ranks of major trendsetters. Chuck Graham now has the potential to be a household world. He's right up there with the likes of Madonna, Cyndi Lauper, Michael Jackson and Boy George.
But, I'll still be his friend. And when this comes out in print I'm going to be the first person to have my copy autographed.
An old trench coat won't ever let you down, huh Chuck?
By Richard Whitmer
March 1982 - Tucson Teen. Page 16
This is a two-part interview with Chuck Graham, music writer for the Tucson Citizen, will be featured on "High School Hotline," KHYT, Sunday, March 7th and 14th (1982).
What does the entertainment writer for a major daily newspaper do? What is it like to review concerts, albums, plays and movies or the media?
Graham gives his views as a music writer and critic in this special career-interest interview series. He discusses his background, the Tucson radio and local music scene and their directions. Graham graduated high school and college. Interestingly, he majored in Psychology. Graham finds it a valuable asset to his journalistic abilities.
Much of Graham's teenage years were spent wearing the "right" clothes, driving the "right" cars and hanging out with the "right" crowd. He said much of that has worn off and become less important to him.
Graham spoke to the Tucson Teen entertainment staff mid-February and discussed reviewing, interviewing, writing for a newspaper and the music scene. The staff learned new techniques to increase their reporting skills in this series of educational/training programs provided for the youth newspaper staff.