---
This page is from the 3-volume set of "Entertaining Tucson Across the Decades," Download a free, 100 page, special edition digital PDF sample of selections from all three volumes, including the full Table of Contents, Indexes and a samples of historical articles and photographs. "Entertaining Tucson Highlights."
---
Downtown was the "shopping center" in Tucson, Arizona during the 1950s and early 1960s. Most businesses stretched along a few blocks between Congress, Alameda and Pennington Streets. Congress Street was also the hub for the major indoor movie theaters.
Four indoor theaters crowded downtown– the Fox Theatre, <![if !supportFootnotes]> [5] <![endif]> Rialto Theatre, <![if !supportFootnotes]> [6] <![endif]> State Theatre <![if !supportFootnotes]> [7] <![endif]> and a Spanish movie house.
The 1,300-seat Fox Theatre, 17 W. Congress, opened on April 11, 1930 with the showing of "Chasing Rainbows." The Fox closed in 1974 because of economic conditions and competition from TV, outdoor drive-ins and new multiplex movie theaters. The Fox has been refurbished and reopened December 31, 2005.
The Rialto Theatre, 318 E. Congress Street, opened in 1920 and was closed in 1984 after a gas explosion and has since reopened for performing arts and concerts.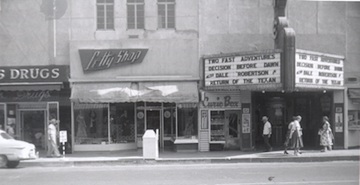 Photo of Downtown Tucson, Early 1953. On Congress Street <![if !vml]> showing the Letty Shop clothing store and State Theatre.
<![endif]>
Now Available
From Amazon.com
Looking south at The State Theatre on (right), next to the Letty Shop. On the marquee: "Two Fast Adventures: "Decision Before Dawn," (December 1951) also Dale Robertson in ÔReturn of the Texan." (December 1952)
The Curio Box, a jewelry, store is sandwiched between State Theatre and The Letty Shop. Payless Drug Store is to the far left.
The State Theatre, 51 E. Congress, originally opened in 1897 as the Tucson Opera House. The 1,000-seat movie house closed on September 22, 1953.
The Letty Shop next door, 47 E. Congress, carried "ladies' ready-to-wear" apparel from New York and Los Angeles. The shop, owned by Mr. and Mrs. Jules Abelow, originally opened at 34 E. Congress on June 24, 1944 in a building formerly occupied by Sayer's Linen Shop. The store moved across the street some years later and closed about 1956. The Letty Shop was named for the Abelow's daughter, Letty, who later opened her own mid-town clothing stores, Simply Samples and Career Threads in the 1980s.
The main downtown department store was Steinfeld's at the corner of Stone Avenue and Pennington Street. The two-story building with a mezzanine carried everything from glassware to neckwear, shoes to lamps and a "Tucsonian Shop." Nearby, at 26 E. Congress, was the popular Grabe's Record Center where 45 RPMs filled the record containers. Other department stores included, Jacomes, Penny's, Sear's and Levy's.
---
Return to Entertaining Tucson Volume 1 Home Page
---
Use discount restaurant coupons for dining at dozens of restaurants locally and thousands of registrants across the nation. This Week's Online Offers for Tucson restaurants.
New discount restaurant dining gift certificates from some local restaurants through Restaurant.com. Check out the latest offer.
From Google

---
2014 © Entertainment Magazine and BZB Publishing, Inc., Robert Zucker and Newsreal, Jonathan L. All rights are reserved. These are the compiled works of contributed materials from writers and photographers previously published in the Tucson Teen, Magazine, Entertainment Magazine and Newsreal newspapers, and from Entertainment Magazine On Line (EMOL.org). No part of the material protected by this copyright may be reproduced or utilized in any means, electronic or mechanical, without written permission from the publisher.
Permission is granted to use quotes and cite references to the contents in this book with proper credit noted: "Entertaining Tucson Across the Decades," © 2014 Entertainment Magazine."